We took time this month to celebrate our local veterans. We are so appreciative of the example these men and women set for our students. Our students and staff did a great job honoring our community heroes. This time of year is exciting and so busy. Middle and High School students enjoyed a treat for Merit Roll, Honor Roll, and Principals List this week. Our students are getting ready for Christmas concerts. We will be sending midterms home on December 6th. The winter sports season is kicking off this week so come out and help support our kids. Our 10th graders visited Buckeye Career Center on Wednesday to explore their future options. Students took part in a volleyball game on Friday to raise money for our wish squad to shop for a family in need this holiday season. Time flies as we prepare for the holiday season. It is not always possible to know what tough stuff another person is facing. We encourage our students to treat everyone kindly because we do not know what someone else is going through or the challenges someone may have. Life is hard sometimes and we hope that our students will treat others in a way that encourages and lifts them up. Thank you to all of those who have supported us in raising funds for Share a Christmas and showing our support for neighboring schools that have faced tragedies. It is rewarding to be able to help out in times of need. We are thankful for all the support you give us daily. We live in a wonderful community and are so glad we can give back. Enjoy this season and please reach out if you need anything or have a question or concern. Danielle Caldwell MS/HS Principal
We have some exciting news to share! Beginning the week of December 4, we'll be hosting Good Night, Little Rockets storytime with a member of our administrative team. The first session is with our Superintendent, Mr. Zucal. He'll be reading The Polar Express. Stay tuned! #SOAR
Join us on Saturday, December 9th beginning at 7:30am in the cafeteria for breakfast with Santa and fun activities! Tickets are for sale in the main office at the cost of $7 per person. For more info, please see attached flyer.
Wrestling practice for Junior and Senior High School athletes will be held next Monday, November 20, 2023, from 4:00 pm-5:30 pm at the Rocket Center. This will be a conditioning practice only. Please plan on attending!
Sign-ups for Youth Wrestling, students in grades K-6, will be next Tuesday, November 21, 2023 at 6:30pm at Huggins Sports Complex, 8155 Dawn Rd SW, Sherrodsville, OH 44675
Congratulations to all students who earned the Principal's List, Honor Roll, Merit Roll designation for the first 9-weeks. Keep up the great work Rockets! #SOAR
Thank you to the CV Alumni Association for giving our Students and Staff a reward for Academic Success today!
Conferences are November 21st. There will be no school for students that day. If your student is in the elementary, please return the form to schedule a time. If your student is in middle or high school, please call the office to schedule a time. Thank you and Go Rockets!
Today is the last day to place an order for the 22-23 Yearbook. They will be sent to print next week. To order online go to store.shopyearbook.com/cvyearbooks. Then choose elementary or Middle School/High School. You can also stop in the office today before 3:00 to order.
From the Halls of CV- As we enter into the season of holidays at school, I wanted to share with you some of the ideas we have been focusing on at school. As a Leader in Me school, we have talked about being a proactive person and taking responsibility for your reactions and your part in reaching goals. In the middle school and high school, we are trying to reinforce that idea by looking at the simple reminder of E+R=O. E is the EVENT, R is your RESPONSE, and O is the OUTCOME. We are asking students and staff to think about their Response and how their Response has the power to influence Outcomes. We have been talking to students about how their Response in a conflict can affect the Outcome. But also how their Response influences their ability to reach goals and find success, their Outcome. Sometimes we have no control over Events in our lives, but we do have power in how we Respond. Our students have been setting goals and working on goals within their classes and also working on personal goals. As we strive to give students the tools they need to be successful adults, we want them to see that even large tasks can be achieved if you start small and work at it. We would love your help in reinforcing the idea that their Response has the power to influence a situation and to influence their future. Grade cards are coming home November 3rd. Parent/ Student/ Teacher conferences will be held November 21st. Information will come out soon about how to schedule a time. As we enter into the busy winter sports season and take time to celebrate this time of year, please reach out if you have any concerns. Danielle Caldwell MS/HS Principal
The afternoon route for students riding Bus #2, driven by Stefani Staples, will arrive 15 minutes later than usual for the remainder of this school year. The morning route will NOT be affected. Thank you for your understanding! Go Rockets! #SOAR
Congratulations to our students, faculty, and staff on an amazing first quarter of our academic year! We continue to #SOAR in so many ways! Keep up the great work, Rockets!!
Youth basketball camp for all boys in grades 3rd-6th. Sign ups will be held October 24th from 5-6:30pm at Huggins Basketball Camp.
Please join Mrs. Edwards for the Fall Information Night at Kent State Tuscarawas. Conotton Valley will have a table with the necessary forms for students to apply for College Credit Plus for the 2024-2025 school year. There will also be information given for upcoming graduates who want to attend Kent State after graduation. Please join us and see what opportunities there are for our students!
We hope that any Veterans and their spouses are able to join us for a special breakfast and assembly on Nov. 10th. 8:15 breakfast and 9:00 assembly.
Conotton Valley has the highest increase in Performance Index on the State Report Card of any school district in the State of Ohio! This is an amazing achievement by our students and staff. #SOAR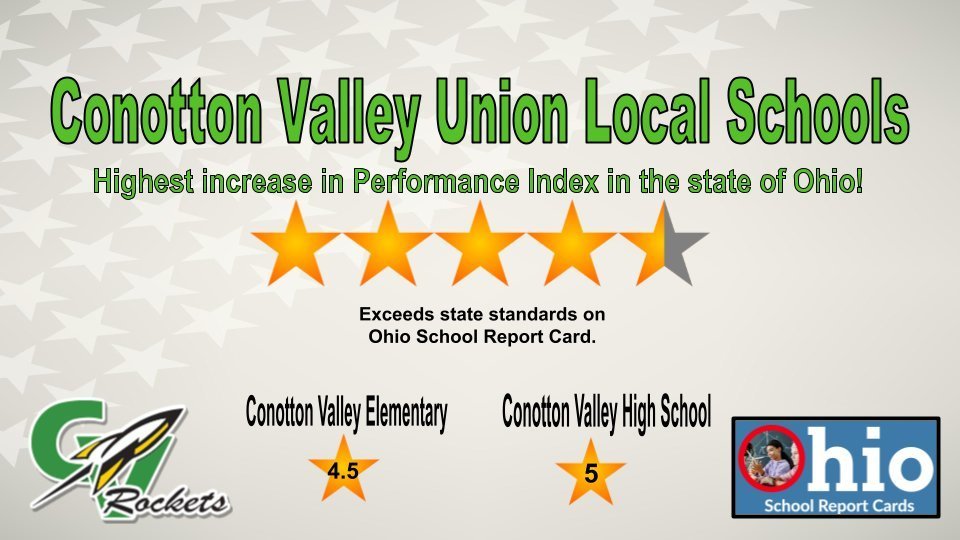 Any parents or students needing help filling out their school forms can come to the high school on Friday night between 5:30-6:30 to fill them out. Please enter through the main school entrance and go to the library, where someone will be available to assist you with the forms.